Pocket rocket powers to victory to Bridport!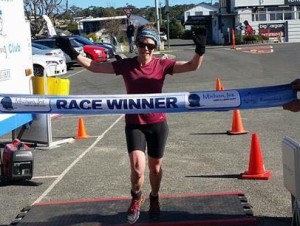 Carolyn Farrar in winning her first LRC race, took out the prestigious Intas Group Scottsdale to Bridport half marathon today.  In very blustery conditions, Carolyn ran a fantastic race to record her half marathon PB, catching the eventual second place-getter Narelle Whelan in the last 500 metres.  Third home was veteran Richard Pickup who held off a fast finishing Debbie Pauna in fourth place.  Johnno Claridge was the fastest of the 61 finishers in a slick time of 1:19:40, with Tracey Tasker the fastest female in 1:33:48.  Well done to all runners who competed in at times very tough conditions, with 40-50km/hr relentless head wind gusts.  Thank you to everyone who helped make today's event a success: our sponsors Intas Financial Services, team Frost for coordinating the drink station, Kurt and Doris Geier and Danny Whelan for marshalling and all the runners support crews – it was fantastic to have you cheering all the competitors out on the course.  For the first timers: a tough initiation to this iconic race, but we hope to see you back next year!
Next weeks race is the penultimate Salon Nolas 5km handicap at Blackstone Heights, followed by the Feature Sweep at Bolters Bar at Country Club Villas.  A reminder to get your Feature Race entries in by 11am Saturday – please contact us if you wish to enter but wont be at the Blackstone race.
Race 18 Intas Scottsdale to Bridport Half Marathon
Division 1
Fastest
Fastest
Name
Place
Race Time
Behind 1st
Handicap
Actual Time
Rate
Male
Female
Points
Carolyn Farrar
1
2:26:12.6
0:00.0
47:15.0
1:38:57.6
4:41/K
4
30
Narelle Whelan
2
2:26:36.6
0:23.9
27:10.0
1:59:26.6
5:40/K
16
29
Richard Pickup
3
2:27:19.3
1:06.7
46:00.0
1:41:19.3
4:48/K
15
28
Debbie Pauna
4
2:27:22.6
1:10.0
53:20.0
1:34:02.6
4:27/K
2
27
Georgina Macdonald
5
2:27:31.7
1:19.1
25:00.0
2:02:31.7
5:48/K
17
26
Nick Daley
6
2:27:50.8
1:38.2
56:50.0
1:31:00.8
4:19/K
8
25
Scott Jones
7
2:29:16.6
3:04.0
46:40.0
1:42:36.6
4:52/K
19
24
John Claridge
8
2:29:45.8
3:33.2
1:10:05.0
1:19:40.8
3:47/K
1
23
Daniel Milner
9
2:30:07.3
3:54.6
1:00:15.0
1:29:52.3
4:16/K
6
22
Andrew Howell
10
2:30:39.1
4:26.4
1:06:25.0
1:24:14.1
4:00/K
3
21
David Anderson
11
2:30:42.8
4:30.1
56:55.0
1:33:47.8
4:27/K
10
20
Leanne Evans
12
2:30:52.3
4:39.7
34:05.0
1:56:47.3
5:32/K
12
19
Brodie Triffett
13
2:31:42.8
5:30.2
1:07:40.0
1:24:02.8
3:59/K
2
18
Megan Baird
14
2:31:53.3
5:40.7
34:50.0
1:57:03.3
5:33/K
13
17
Sarah Bagley
15
2:32:01.3
5:48.7
24:40.0
2:07:21.3
6:02/K
19
16
Peter Green
16
2:32:57.6
6:45.0
22:00.0
2:10:57.6
6:12/K
33
15
Anne-Marie Loader
17
2:32:58.8
6:46.2
20:10.0
2:12:48.8
6:18/K
22
14
Shaun O'Regan
18
2:33:14.6
7:02.0
47:10.0
1:46:04.6
5:02/K
22
13
Casey Mainsbridge
19
2:33:45.6
7:33.0
1:06:30.0
1:27:15.6
4:08/K
5
12
Daniel Sexton
20
2:33:52.2
7:39.6
54:15.0
1:39:37.2
4:43/K
13
11
Pete Wierenga
21
2:34:01.8
7:49.2
55:25.0
1:38:36.8
4:40/K
12
10
Scott Greaves
22
2:34:09.9
7:57.2
45:40.0
1:48:29.9
5:08/K
27
10
Ashlee Kerrison
23
2:34:19.9
8:07.2
42:35.0
1:51:44.9
5:18/K
11
10
David Brelsford
24
2:34:31.7
8:19.0
10:45.0
2:23:46.7
6:49/K
34
10
Matthew Zegveld
25
2:34:37.3
8:24.7
1:09:25.0
1:25:12.3
4:02/K
4
10
Scott Macdonald
26
2:34:39.3
8:26.7
1:04:00.0
1:30:39.3
4:18/K
7
10
Natalie Walter
27
2:34:48.8
8:36.2
37:00.0
1:57:48.8
5:35/K
14
10
Sharon Gunton
28
2:34:58.1
8:45.5
12:15.0
2:22:43.1
6:46/K
25
10
Karl Roberts
29
2:35:19.6
9:07.0
1:01:35.0
1:33:44.6
4:27/K
9
10
Marika McGuinness
30
2:35:20.4
9:07.8
37:00.0
1:58:20.4
5:36/K
15
10
Paige Wierenga
31
2:35:27.4
9:14.7
50:15.0
1:45:12.4
4:59/K
8
10
Dannielle Butler
32
2:35:29.8
9:17.2
50:05.0
1:45:24.8
5:00/K
9
10
Rebecca Zuj
33
2:35:44.8
9:32.2
1:00:30.0
1:35:14.8
4:31/K
3
10
Benjamin Coxen
34
2:36:01.6
9:49.0
49:40.0
1:46:21.6
5:02/K
23
10
Anna O'Donnell
35
2:36:56.8
10:44.1
31:30.0
2:05:26.8
5:57/K
18
10
Paul Loader
36
2:37:15.5
11:02.9
49:10.0
1:48:05.5
5:07/K
26
10
Tracey Tasker
37
2:37:48.6
11:36.0
1:04:00.0
1:33:48.6
4:27/K
1
10
Katie Proctor
38
2:38:18.1
12:05.4
46:50.0
1:51:28.1
5:17/K
10
10
Daniel Van Der Vlist
39
2:38:43.8
12:31.2
1:02:00.0
1:36:43.8
4:35/K
11
10
Ben Wells
40
2:38:47.1
12:34.5
56:00.0
1:42:47.1
4:52/K
20
10
Tim Gunton
41
2:38:50.3
12:37.7
39:05.0
1:59:45.3
5:41/K
28
10
lance beament
42
2:38:51.1
12:38.5
56:00.0
1:42:51.1
4:52/K
21
10
Sally Haynes
43
2:38:56.1
12:43.4
57:45.0
1:41:11.1
4:48/K
5
10
Shane Brandsden
44
2:38:57.6
12:45.0
57:00.0
1:41:57.6
4:50/K
16
10
Jess Scales
45
2:39:21.7
13:09.1
30:55.0
2:08:26.7
6:05/K
20
10
Chris Nason
46
2:39:26.4
13:13.7
57:00.0
1:42:26.4
4:51/K
17
10
Doug Headland
47
2:39:26.8
13:14.2
57:00.0
1:42:26.8
4:51/K
18
10
Melissa Clark
48
2:40:07.8
13:55.1
57:15.0
1:42:52.8
4:53/K
6
10
Shane Hanson
49
2:40:10.6
13:58.0
52:55.0
1:47:15.6
5:05/K
24
10
Amy How
50
2:40:28.8
14:16.2
28:35.0
2:11:53.8
6:15/K
21
10
Rob Miller
51
2:40:44.1
14:31.4
1:01:00.0
1:39:44.1
4:44/K
14
10
Emma Van Duiven
52
2:40:53.1
14:40.5
56:20.0
1:44:33.1
4:57/K
7
10
Rob Tatchell
53
2:41:58.2
15:45.5
54:35.0
1:47:23.2
5:05/K
25
10
Colin Smith
54
2:43:43.7
17:31.1
14:45.0
2:28:58.7
7:04/K
36
10
Matthew Jones
55
2:44:28.4
18:15.8
43:00.0
2:01:28.4
5:45/K
30
10
Kazusa Butler
56
2:44:48.4
18:35.7
31:30.0
2:13:18.4
6:19/K
23
10
Leo Sexton
57
2:46:26.3
20:13.6
43:50.0
2:02:36.3
5:49/K
31
10
Joseph Rogers Snr
58
2:47:15.5
21:02.8
21:35.0
2:25:40.5
6:54/K
35
10
Jobe Tai
59
2:47:16.3
21:03.7
43:15.0
2:04:01.3
5:53/K
32
10
Georgina Sertori
60
2:48:40.0
22:27.3
28:30.0
2:20:10.0
6:39/K
24
10
Tim Reese
61
3:02:50.0
36:37.3
1:01:50.0
2:01:00.0
5:44/K
29
10