Michelle Frost wins on the 5k uni track!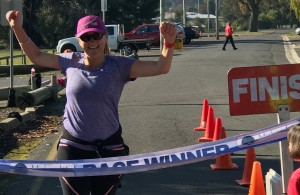 39 division 1 runners turned out today in the Vincent Walker Construction 5k at the Uni in perfect conditions.  Michelle Frost (me ;-)) managed a win today from Pete Wierenga who just beat Peter Davies to the line in what is his 3rd second of the season and 5th top 5!  Surely he'll break through soon
The fastest male in what is a fast lap course was Peter Johnson in 18.30 and the fastest female was Kate McIntyre in 20.30.  Due to a little timing hitch we weren't able to award these after the race, but will hand them out next week.  On that note, the timing system had a fault today and managed to miss 11 people from the race (and one in div 2 & div 3), thats to photographic evidence we've been able to assign you all the what we hope is the correct positions with pretty much the correct times.  Please let us know if its too far off your time or the placing is incorrect
In the division two 2.5k race Thomas Cooper stormed home to win from Harry Darsaklis and Lani Tai.  The fastest male was Ben Frost in a time of 9.59 and the fastest female was Lani Tai in a time of 13.21.
In the division three 1.25k race Eloise Cooper won from Peyton Webb and Oliver Mannion.  The fastest male was Luke McHugh (he is one of the missing times – we'll update it as soon as we can) and Averyl Quinn was the fastest female in 4.45.
Full results can be found here.
We also handed out a bunch of run badges today – 350 to Neil Hammersly, 150 to Max Loffel and 50 to Jobe Tai – well done guys!
Next week we're all going to have some fun!  Time to get those costumes out and raise a little money for a great charity – Give Me Five For Kids!  We meet at the Hoo Hoo Hut in the Trevallyn reserve and run around in our customs scaring the wildlife.  There will be loads of prizes for the best costume etc.  See you there for the Paint Plus, Give Me Five For Kids 5ish ks!