Narelle conquers Gutbuster!
Today's Sidmouth Gutbuster was won by the ever consistent Narelle Whelan in a close tussle with second place getter Sam Wierenga who was closing in and Nick Hay forcing hi way into third position. The race was run in perfect conditions and for the first time in many years no significant wind to struggle into on the return journey. It was great to welcome Josh Harris back into the fold after returning from his recent Olympic marathon trial in Europe and unsurprisingly recording the fastest time of the day of 40:57. Fastest female was in form runner Bev Allen 27 seconds over the hour.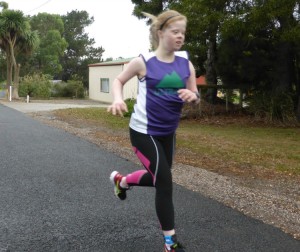 In Division 2, after some consistent performances, Eliza Anderson won the 3km Gutbuster for the second time followed by Benjamin Frost and Bianca Holloway making up the minor places. Fastest male and female was Ryan Holloway and Ella Boxhall in 12:42 and 13:07 respectively.
Averyl Quinn ran very well to win the division 3 2km event in a reasonably large field from Reiss Hinds in second and Peyton Webb in third. Averyl was also the fastest female in 8:56 while Alex Zegveld took the male fastest honours in 8:31.
Next weeks race is the 5km Youngtown Trail commencing at the South Launceston Football Club. Thanks again to all our volunteers in the caravan, on the BBQ and marshals on the course.
Race 6 Running Edge 11.6KM Sidmouth Gutbuster
Division 1
Fastest
Fastest
Name
Place
Race Time
Behind 1st
Handicap
Actual Time
Rate
Male
Female
Points
Narelle Whelan
1
1:30:00.2
0:00.0
23:10.0
1:06:50.2
5:46/K
5
30
Sam Wierenga
2
1:30:20.7
0:20.5
27:05.0
1:03:15.7
5:27/K
2
29
Nick Hay
3
1:30:25.4
0:25.2
40:35.0
49:50.4
4:18/K
6
28
Brodie Triffett
4
1:31:04.8
1:04.6
40:15.0
50:49.8
4:23/K
7
27
Pete Wierenga
5
1:31:07.5
1:07.2
37:05.0
54:02.5
4:39/K
12
26
Rodney Boxhall
6
1:31:28.1
1:27.9
42:20.0
49:08.1
4:14/K
5
25
Jennifer Quinn
7
1:31:31.4
1:31.2
25:30.0
1:06:01.4
5:41/K
4
24
Anne Marie Loader
8
1:31:34.1
1:33.8
23:10.0
1:08:24.1
5:54/K
7
23
Bev Allen
9
1:31:37.6
1:37.3
31:10.0
1:00:27.6
5:13/K
1
22
Jobe Tai
10
1:31:40.4
1:40.2
32:30.0
59:10.4
5:06/K
16
21
David Anderson
11
1:31:43.8
1:43.6
40:35.0
51:08.8
4:24/K
8
20
Paul Loader
12
1:32:44.5
2:44.2
34:50.0
57:54.5
4:59/K
13
19
David Brelsford
13
1:33:07.8
3:07.6
17:25.0
1:15:42.8
6:32/K
24
18
John Claridge
14
1:33:08.5
3:08.3
47:35.0
45:33.5
3:56/K
2
17
Daniel Sexton
15
1:33:12.7
3:12.4
39:50.0
53:22.7
4:36/K
11
16
Tim Warren
16
1:33:17.8
3:17.6
40:35.0
52:42.8
4:33/K
9
15
Peter Johnson
17
1:33:29.8
3:29.6
45:50.0
47:39.8
4:06/K
4
14
Danny Whelan
18
1:33:31.5
3:31.3
22:00.0
1:11:31.5
6:10/K
22
13
Matthew Zegveld
19
1:33:35.1
3:34.8
47:35.0
46:00.1
3:58/K
3
12
Rob Tatchell
20
1:33:41.8
3:41.5
40:35.0
53:06.8
4:35/K
10
11
Scott Jones
21
1:33:53.8
3:53.6
34:50.0
59:03.8
5:05/K
14
10
Jozina Goedhart
22
1:34:03.1
4:02.8
24:55.0
1:09:08.1
5:58/K
8
10
Michelle Frost
23
1:34:11.1
4:10.8
25:55.0
1:08:16.1
5:53/K
6
10
Josh Harris
24
1:34:17.8
4:17.5
53:20.0
40:57.8
3:32/K
1
10
Mark Fyfe
25
1:34:30.6
4:30.3
35:25.0
59:05.6
5:06/K
15
10
Peter Davies
26
1:35:11.8
5:11.6
35:25.0
59:46.8
5:09/K
17
10
Joseph Rogers Snr
27
1:35:18.9
5:18.7
28:25.0
1:06:53.9
5:46/K
20
10
Neil Hammersley
28
1:35:27.1
5:26.8
18:45.0
1:16:42.1
6:37/K
25
10
Robyn Beattie
29
1:35:46.4
5:46.1
13:55.0
1:21:51.4
7:03/K
10
10
Ricky Markham
30
1:35:49.9
5:49.7
8:05.0
1:27:44.9
7:34/K
26
10
Doris Geier
31
1:36:10.9
6:10.7
30:10.0
1:06:00.9
5:41/K
3
10
Paul Gambles
32
1:36:30.6
6:30.3
22:50.0
1:13:40.6
6:21/K
23
10
Anne Davies
33
1:37:03.5
7:03.3
23:10.0
1:13:53.5
6:22/K
9
10
Justin Cooper
34
1:37:09.1
7:08.8
29:00.0
1:08:09.1
5:53/K
21
10
Andrew Sertori
35
1:37:34.1
7:33.8
32:05.0
1:05:29.1
5:39/K
19
10
tim gambles
36
1:39:58.3
9:58.1
39:25.0
1:00:33.3
5:13/K
18
10
Lynnda Coffey
37
1:47:45.6
17:45.3
18:35.0
1:29:10.6
7:41/K
11
10
Fiona Webb
38
1:58:28.9
28:28.6
13:55.0
1:44:33.9
9:01/K
12
10
Division 2
3 km
Fastest
Fastest
Name
Place
Race Time
Behind 1st
Handicap
Actual Time
Male
Female
Points
Eliza Anderson
1
27:16.6
0:00.0
7:30.0
19:46.6
6:35/K
3
30
Benjamin Frost
2
28:29.8
1:13.2
15:35.0
12:54.8
4:18/K
2
29
Bianca Holloway
3
28:44.1
1:27.5
11:55.0
16:49.1
5:36/K
2
28
Bailey Hume
4
28:44.2
1:27.6
14:40.0
14:04.2
4:41/K
3
27
Ryan Holloway
5
28:52.7
1:36.1
16:10.0
12:42.7
4:14/K
1
26
Sebastian Frost
6
29:17.8
2:01.2
13:10.0
16:07.8
5:22/K
4
25
Ella Boxhall
7
29:32.6
2:16.0
16:25.0
13:07.6
4:22/K
1
24
Charlotte Rogers
8
31:41.6
4:24.9
7:10.0
24:31.6
8:10/K
4
23
Diviision 3
2 km
Fastest
Fastest
Name
Place
Race Time
Behind 1st
Handicap
Actual Time
Male
Female
Points
Averyl Quinn
1
19:56.5
0:00.0
11:00.0
8:56.5
4:28/K
1
30
Reiss Hinds
2
20:26.5
0:30.0
8:40.0
11:46.5
5:53/K
5
29
Peyton Webb
3
20:39.4
0:42.8
8:40.0
11:59.4
6:00/K
5
28
Joseph Rogers Jnr
4
20:58.7
1:02.1
11:00.0
9:58.7
4:59/K
2
27
Georgia Harmey
5
21:00.1
1:03.6
10:45.0
10:15.1
5:08/K
2
26
Ashleigh Dettmer
6
21:14.3
1:17.8
9:05.0
12:09.3
6:05/K
7
25
Thomas Cooper
7
21:26.2
1:29.6
9:40.0
11:46.2
5:53/K
4
24
Archer Rogers
8
21:30.4
1:33.9
11:05.0
10:25.4
5:13/K
3
23
Alex Zegveld
9
21:51.5
1:55.0
13:20.0
8:31.5
4:16/K
1
22
Ella Mannion
10
21:53.8
1:57.3
11:00.0
10:53.8
5:27/K
4
21
Lani Tai
11
22:00.3
2:03.8
11:40.0
10:20.3
5:10/K
3
20
Hannah Zegveld
12
22:29.2
2:32.7
9:40.0
12:49.2
6:25/K
9
19
Eloise Cooper
13
22:45.7
2:49.2
10:40.0
12:05.7
6:03/K
6
18
Sisi Tai
14
23:18.6
3:22.1
10:20.0
12:58.6
6:29/K
10
17
Chelsea Rogers
15
23:48.9
3:52.3
11:05.0
12:43.9
6:22/K
8
16
Results By Launceston Running Club Inc.
07/05/2016 01:34:27