Scott Jones takes home the Lilydale Larder Lope 16.6k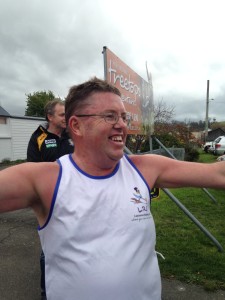 Our club course marker Scott Jones took out the prestigious Lilydale Larder Lope today as the forecast rain held out.  The race has been run by the North Launceston Athletic Club since 1974 with amazing support from sponsors and volunteers!  We would like to thank them all for their continued support of this event.
Jobe Tai kept Scott company for most of the race and came in second today, with Peter Johnson third.  The fastest male time was taken out by Zane Carr and the fastest female by Amy Lamprecht.
In the division two 2.5k race Mackenzie Roberts was the first one home from Thomas Cooper and Lani Tai.  The fastest male in todays race was Luca Galvin-Ridge and the fastest female was Mackenzie Roberts.
In the division three race Amy Lewis won from Peyton Webb and Eloise Cooper.  The fastest male in todays race was Luke Mchugh and the fastest female was Averyl Quinn.  The division 3 results are missing the run rate as the distance appears to have been incorrect – we will update as soon as possible.
Full results can be found here.
Next week in the Vincent Walker Construction 5k at the Uni – a fast little circuit which is gre4at for spectators and those wanting to test their speed!